Travel Tips
I have not been on a plane since my accident. What do I need to be aware of?
Before you travel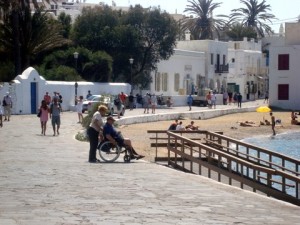 Ensure your equipment is in top working order and have some inner tubes, or a whole spare wheel, and basic maintenance tools ready to take away.
Locate a reliable wheelchair repair business at your destination.
You are responsible for the insurance of your wheelchair during flight.
Airlines may not permit stainless-steel cutlery in the cabin (carry-on luggage). Modified/ringed cutlery may need to be packed in your suitcase/checked in luggage.
Organise incontinence supplies required for in-flight eg additional catheters, drainage bags, larger leg bag. Cabin aisle chairs are not self propelling and the majority of on-board restrooms are inaccessible.
Join the frequent flyer program and put necessary information on your profile
When making airline reservations
Let the reservations person know:
The dimensions and weight of your wheelchair.
The type of mobility aids you will be travelling with.
Whether your batteries are wet or dry cell.
The assistance you may require with transferring from your chair (not all
Airlines provide manual handling assistance).
If you require a harness to secure you when seated.
Ask the reservations person what type of plane you are booked on and if your wheelchair must meet size (particularly height) restrictions. If it does, you may want to prepare a small disassembly instruction card for ground crew.
You may be able to supervise the necessary breakdown of your wheelchair and disconnection of your batteries and controller but staff at your destination may need instructions.
At the airport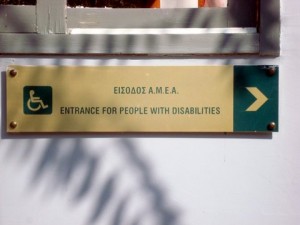 Arrive early, check-in and request that you transfer from your chair at the boarding gate. You will be safer and more comfortable in your own chair than an airline/aisle chair.
At check-in, ask about the plane's seating configuration. If you are travelling with one companion and the seats are in groups of three for example, request that the third seat remain vacant. This will afford you maximum privacy, important if you need to drain a leg bag, and it will save a stranger from trying to clamber over you on their way to/from the restroom.
Ensure all removable parts of your equipment are tagged.
It is advisable to take your wheelchair cushion, electric wheelchair controller and any other loose or easily damaged attachment on board with you.
If you have an electric wheelchair, disconnect the battery lead between your chair and the battery and place a piece of tape over both ends, and supervise/ assist the breakdown of your wheelchair and place into neutral/push mode.
Empty your bladder or leg bag just prior to boarding.
Boarding
You will generally be the first to board the plane and the last to disembark.
A lifting device or aisle chair (depending on the airport and your level of function) will be used to transfer or assist you to your seat.
Economy class seats have movable armrests, pending availability, for those able to independently transfer. First/Business class seats do not generally have movable armrests.
Managing Incontinence
Managing incontinence during plane travel poses a number of issues. Cabin crew are not permitted to assist with personal care functions like emptying leg bags and urinals. Also, they are not permitted to assist with transfers to/from the toilet.
Airlines require that people who require assistance to manage their continence equipment independently travel with a companion.
Before flying: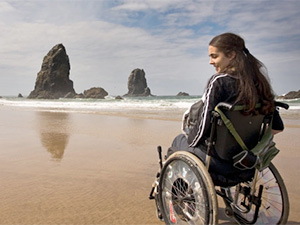 If you have an 'every-other-day' bowel regime, plan ahead to make sure you won't have to 'go' on the plane. On a long trip that might mean that you have to schedule a stopover rather than take a direct flight with extended airport transfer time.
Although it is generally important to maintain adequate hydration you might plan to reduce your fluid consumption before boarding so that you need fewer bathroom visits or leg bag emptying. Avoid caffeine and alcohol as they are diuretics that can lead to dehydration.
Empty your legbag or bladder immediately before boarding.
If you do need to use the aircraft restroom
Accessible restrooms are available only on some wide body jets. On smaller aircraft, privacy is provided by a curtain in the adjacent aisle.
Aisle chairs are available on most aircraft and are brought on request by cabin crew who also provide assistance to/from the door of the aircraft restroom.
Although you might not usually wear one, an indwelling catheter may be a more convenient option during the flight.
If you know you will not use the restroom
Use a large capacity leg bag for the flight. There are many products available in a range of sizes and styles. Contact Intouch (www.intouchdirect.com.au, 1300 134 260), BrightSky (www.brightsky.com.au, 1300 886 601) or other suppliers.
Take enough spare disposable drainage bags or receptacles. These might be specialist equipment or drink containers, zip-lock bags etc.
At check-in, ask whether an empty seat can be allocated next to you so that you will have as much privacy as possible when tending to your personal care.
For advice specific to your needs contact:
your local community continence health adviser;
the ParaQuad spinal nurse (spinalnurse@paraquad.org.au, 02 8741 5674); or
Continence Foundation of Australia (www.continence.org.au,1800 33 00 66).